Fresh Drumsticks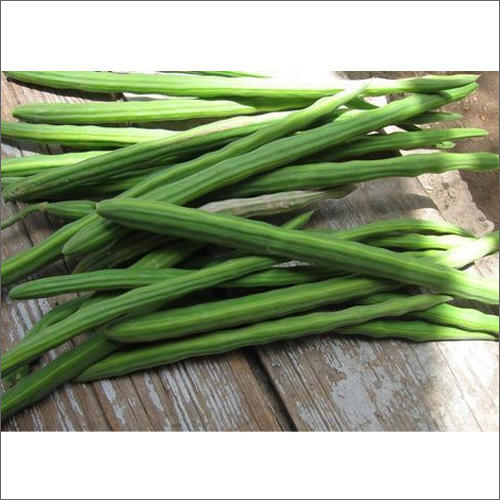 Fresh Drumsticks
Price And Quantity
Ton/Tons

22.00 - 25.00 INR
Product Description
We are one of the preferred organizations involved in offering our customers a varied array of Fresh Drumsticks. They are grown under the supervision of knowledgeable agriculturists without any harmful chemicals and fertilizers. Known for their freshness, purity and high nutritional content, these Fresh Drumsticks are offered by us at economical prices.
FAQs of Fresh Drumsticks:
1. What are Fresh Drumsticks?
Fresh drumsticks (Moringa oleifera) are the delicate and stretched green cases of the drumstick tree. They are otherwise called moringa units and are a famous vegetable in numerous cooking styles.
2. How do Fresh Drumsticks taste?
Fresh drumsticks have a gentle, marginally natural flavor like asparagus or green beans. They are much of the time utilized in dishes for their special taste and surface.
3. What are the culinary purposes of Fresh Drumsticks?
Fresh drumsticks are utilized in various culinary arrangements, including curries, stews, soups, and side dishes. They are generally added to dishes for their flavor and dietary benefit.
4. Are Fresh Drumsticks nutritious?
Indeed, fresh drumsticks are profoundly nutritious. They are plentiful in nutrients, (for example, L-ascorbic acid, vitamin A, and vitamin B6), minerals (like calcium, iron, and magnesium), and cell reinforcements.
5. How are Fresh Drumsticks arranged for cooking?
Fresh drumsticks are commonly washed, managed at the closures, and cut into more modest pieces prior to being added to dishes. The external hard skin is in many cases taken out, uncovering the delicate internal tissue.
6. Might Fresh Drumsticks at any point be eaten crude?
Fresh drumsticks are not normally eaten crude because of their intense surface and somewhat severe taste. They are typically cooked before utilization.
7. What are the medical advantages of consuming Fresh Drumsticks?
Consuming fresh drumsticks might have potential medical advantages, including supporting invulnerable capability, advancing processing, and giving supplements that add to in general prosperity.